How to get to Ribes de Freser and Vall de Núria
Els Caçadors is in a very central position, in the town of Ribes de Freser, in the heart of the Ripollès region just a few metres from the rack railway train station that goes to the Vall de Núria. Renfe's Rodalies Line 3 connects Hospitalet de Llobregat with Puigcerdà going through Barcelona, Granollers, La Garriga, Vic and Ripoll, with a stop in Ribes de Freser, just a 10-minute walk from the hotel.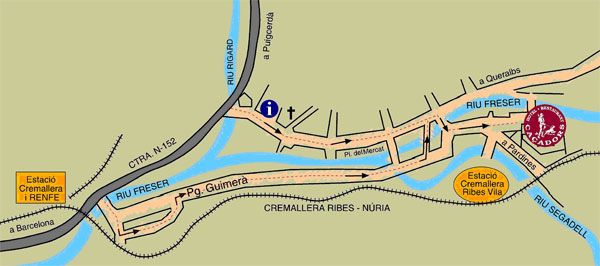 Ribes de Freser also connects with Cerdanya and its ski stations by means of the Toses Mountain Pass.
From Barcelona, it can be reached in 1h 45 min by taking the C17 to Puigcerdà; from Girona in 1h 30 min along the C26 from Olot to Ripoll, through the Capsacosta tunnels or along the C-25 Eix Transversal from Girona to Vic; there are 2h from Lleida, and about 2 hours 20 min from Tarragona.
Nearby airports: Barcelona Airport (BCN), Girona Airport (GRO) 66.4 km away and Llabanere Airport (PGF) 74.8 km away.
Coordinates GPS
42° 18' 32,42"N/2°10' 14,00"E I
Interesting links:
Check out the www.renfe.com
Find your route o www.viamichelin.es